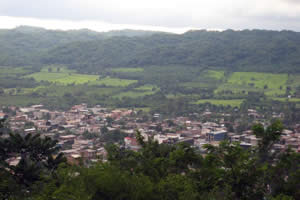 (not a picture from Jack... just Google)
Definitely the most interresting thing that happened this week was that I got transferred. I am now serving in the city of Yacuiba (on the border of Bolivia and Argentina) with Elder Mallea (an Elder from La Paz, Bolivia with 6 months in the mission and basically my same size and build).
Yacuiba, also known as the
infierno verde
(green hell) is as it´s nickname suggests. It has many small mountains (or large hills) covered in gorgeous trees and greenery. It is also insanely hot. Santa Cruz was super hot and humid, but here is even hotter and well, the humidity is the same as you can´t really have any more than 100%.
The people are a bit poorer than my other area and a tiny bit more open to recieve the gospel. So far things are going great here. My companion and I get along very well, and we have been working crazy hard in these few days that we have together. While I will miss being able to go to the air-conditioned supermarket and buy American products like BBQ sauce and peanut butter, I kinda like being farther away from civilization.
Next week I should be able to say more about the missionary work in Yacuiba, but until next time,
Elder Casdorph